When: The 2nd Monday of the month, excludes July, August
In Jan, Feb, and March the club hosts carving seminars from 6:30 to 9:00 pm on the 2nd and 4th Mondays of the month.

Who: Guests are always welcome.

Where: Meetings are held at the 40 & 8 Club (across the street from Gleason Works) 933 University Avenue, Rochester, New York: Social Time from 6:30 to 7:00 PM. General Meeting and/or programs from 7 to 9 PM.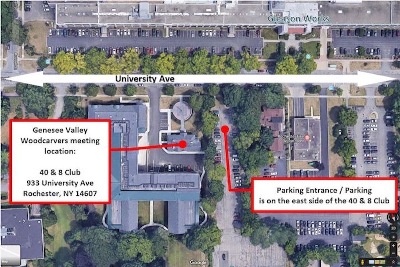 6:30 - 7:00 PM: Open time for socializing, informal coaching or critiquing, browsing the library, and the informal "Show & Ask Me" table.
7:00 - 7:15 PM: Welcome new members and guests, announcements.
7:00 - 9:00 PM: Open carving time and/or demos.
9:00 - 9:30 PM: Room cleanup


Monday, October 14, 2019:
- Raffle prize donations for the 2020 show can start being collected.
- Club is hosting a Simple Santa carving project. Come ready to knife carve. email Alison at alison.c.currie@gmail.com if you plan to attend so we have enough cut outs on hand. The carving is based on a project found in Woodcarving Illustrated. Participating carvers should bring a sharp carving knife, a 1/8" V tool, and a pencil. Mel Connell will be instructing and carving coaches will be there to assist.

Monday ,November 11, 2019: Paint and finish the October Santas. We will provide a paint demo and then members will be free to work on their individual piece.

Monday, December 9, 2019: Presentation of winter carving class projects, and class registration. Please donate carvings for the Show Raffle, if you can!

2020
January, February, March second and fourth Mondays: Winter carving classes will be held
April 13th: Meet new members, mini-demos, plus show wrap-up
Monday, May 11: Nomination of officers.
Monday, June 8: Election of officers.


Note: In the event of a meet cancellation due to inclement weather, members will be notified as follows:

1. Members with email addresses on file will be notified the day of cancellation via email.

2. Notification of the cancellation will be posted on this website.

3. Members with no email or computer access should ask a fellow member who is "online."


Need a Mentor? Inquire at the next meeting or email us on the Contact page.